ANGLETERRE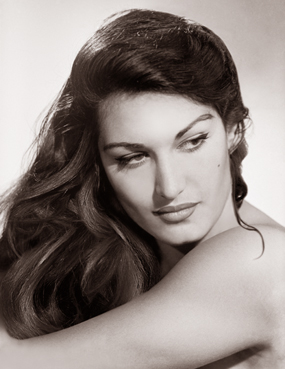 Under her real name of Iolanda Gigliotti, Dalida was born in Cairo on 17th January 1933. She came from an Italian family which had emigrated to Egypt, and was the only daughter between two sons, Orlando her elder brother and Bruno, her younger. Their father Pietro, was the Principal Violinist for the Cairo Opera.
In her teenage years, she was destined to follow a career as a secretary. In 1951, she secretly entered a beauty pageant. Three years later, she took part in the Miss Egypt contest and won first prize. She was then hired as an actress to make films in Cairo, the Hollywood of the Middle East. There she was spotted by a French film producer. Yolanda, who had become Dalila, dreamt of Paris. Despite her family's misgivings, on 25th December 1954, she caught a flight to Paris.
Times were hard. French cinema had no place for her. So in order to make ends meet, she took singing lessons. She was booked for a cabaret on the Champs Elysées, and later on at the Villa d'Este. She was introduced as the "Revelation of French Song".
Bruno Coquatrix had just bought an old Parisian cinema, the "Olympia", where he put on a variety show, "The Number Ones of Tomorrow". Dalila was invited and she chose to perform "Stranger in Paradise". On that occasion, she met two men: Lucien Morisse, Artistic Director of Radio Europe 1, and Eddy Barclay, a record producer. They had decided to discover the pearl that would help them launch both their respective businesses. Dalila, now having become DALIDA, seemed to be the artiste they needed.
She recorded her first single on the Barclay label, "Madonna", but it was with "Bambino" that Dalida would make her mark. It was an enormous success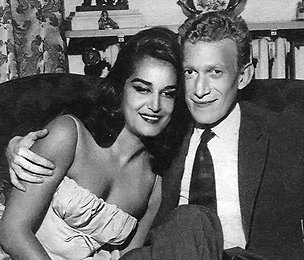 1956 was for Dalida a year full of success. She took her first steps on the stage at the Olympia as warm-up to Charles Aznavour. "Bambino" launched her into the arms of the public and they took to her enthusiastically. She was in great demand. By September the crowds were struggling at the doors to get in. From now on Dalida appeared on the covers of all the magazines. On 17th September 1957, the first gold disc was created for her. Lucien Morisse was becoming more than a Pygmalion for the young singer. Romance was blossoming between them. In 1958, she recieved an oscar from Radio Monte-Carlo, which she subsequently won seven years running. Then she went on a world tour. She returned triumphant to the Bobino Club.
Lucien Morisse continued to give her success after success to record. By this time she had become the favourite singer in France and led the charts ahead of the likes of Edith Piaf and Jacques Brel…! Their eagerly-awaited wedding seemed destined never to take place. On 18th April 1961, after a lot of procrastinating, Lucien and Dalida were married in Paris. She invited her family to the French capital, then left on tour immediately following the wedding. There was no honeymoon.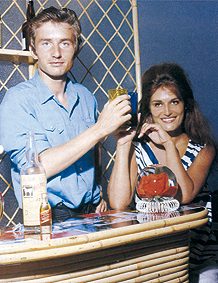 Lucien Morisse never even let her catch her breath: work, work, work. This affected their relationship. Dalida felt ill at ease. Some months later, she met Jean Sobieski at an event in Cannes. The love at first sight was reciprocal. Thus a barrier started to develop between her and Lucien Morisse. Despite her artistic debt to him, she wanted to find her freedom, something which her recently-married husband found difficult to accept.
Despite her new-found passion, Dalida didn't forget her career. Yeh-yeh was all the rage in France. In December 1961, she was at the Olympia. The future was far from being assured since Dalida was no longer just a new girl in the world of showbiz. It was however a triumph. That reassured the singer and her fans. For a whole month she filled the hall which contained more than two thousand fans per night. Then she went on tour, notably to Hong Kong and Vietnam, where she was a true idol.
In summer 1962, Dalida sang "Petit Gonzalez" and saw the same kind of success that she had had for some time now. That year, she bought a town house in Montmartre. The house, which resembled the castle of Sleeping Beauty, was perched on top of one of the most famous parts of Paris.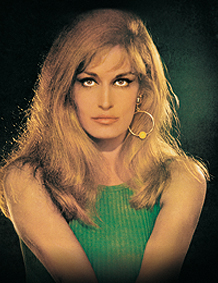 After her divorce from Lucien Morisse and having moved into this new house, Dalida ended up splitting from Jean Sobieski. She took a step back. She changed herself, becoming more sophisticated and continuing her self-learning process by reading more and more. On 4th August 1964, she completed her transformation by turning blonde.
On 3rd September, she took Olympia by storm again. She had by now become the favourite singer in France, having survived the yeh-yeh craze and still right in the middle of European variety music. In 1965, she sang "Zorba's Dance" to the music of Theodorakis who had composed the soundtrack to the film "Zorba the Greek". A new success. She dreamt of marriage but there wasn't a single suitor on the horizon. Songs took up all her time, between galas and recording. At the end of 1966, her younger brother Bruno, who for his own career reasons, had taken the forename of his older brother Orlando, took charge of his sister's career. Rosy, their cousin, had become the singer's secretary. All in the family.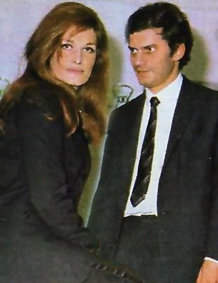 In October 1966, the Italian record company RCA offered her a talented young writer-composer, Luigi Tenco. This tempestuous and confrontational man made a great impression on Dalida. For a new Italian campaign, the label decided to present its singer at the San Remo Festival. Luigi was asked to write the song. The two artistes had many meetings. A real passion was born between them. They decided that they would both perform at San Remo, at the Festival show of January 1967, singing the same song: "Ciao Amore". There was a lot of pressure because Dalida was a star in Italy and Luigi Tenco a young unknown. The couple took this occasion to announce to their close families that they would get married in April. Unfortunately, the evening turned into a tragedy. Luigi Tenco, extremely disturbed, under the effects of alcohol and tranquilisers, could not bear to see the prize go to other contenders. He berated the jury members and denounced the influence of money on the festival. Disgusted and misunderstood, he committed suicide in the room of his hotel. Dalida was distraught. Some months later, in desperation, it was her turn to attempt to take her life with the aid of sleeping pills.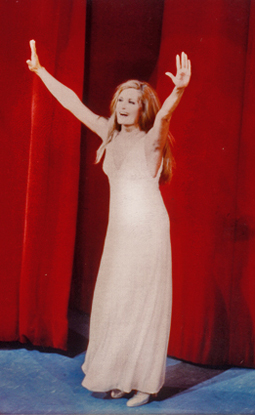 In fact this unfortunate incident was to herald a new era in the career of Dalida. It was to be the beginning of the "Madonna" period where she wore a long white dress. The public devotion appeared to be eternal for "Saint Dalida", as she was nicknamed by the press.

The time of "Bambino" was over. Now she was reading a lot, taking an interest in philosophy, becoming passionate about Freud and taking up yoga. Henceforth her only reason to live would be to fortify her soul. But her career continued: she returned to Italy to take part in a famous TV show, and on 5th October 1967, was back on stage at the Olympia. A rebirth took place there and again it was a fresh triumph. In spring 1968, she left again on tour abroad. In Italy, she received the grand prix of song, "Canzonissima".

Always in search of herself, Dalida undertook several trips to India to follow the teachings of a wise man. At the same time, she underwent Jungian psychoanalysis. All this seemed to take her away from singing, but she didn't forget that part of her life. In August 1970, she had great success with "Darladiladada". In the autumn, she met Léo Ferré during a TV programme. As soon as she returned to Paris, she recorded "Avec le temps" which she made very popular. From now on she would only record songs which in her eyes had a poetical dimension. Bruno Coquatrix, owner of the Olympia, didn't believe in this new repertoire. Sensing his hesitation, Dalida decided to book the hall herself, for three weeks at the end of 1971. Her Pygmalion, Lucien Morisse, was no longer there to support her; he had committed suicide in September 1970. Dalida was really doubtful as she went on stage. But once again the success was immense.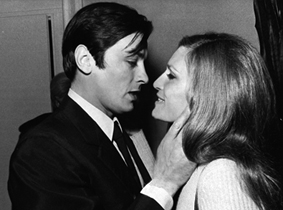 She met Alain Delon again, a life-long friend, with whom she had had a passionate relationship in the 1960s. They had forgotten nothing of their friendship and now it was just as strong. They sang "Paroles Paroles" together in 1973. Soon this track went to number one in the charts in France, Europe and Japan.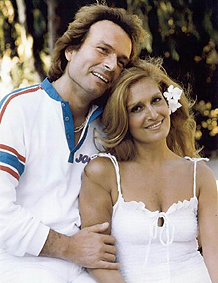 The start of the 1970s was professionally very auspicious. Her new companion at that time, Richard Chanfray, who called himself "Count of Saint-Germain", seemed to be helping her a lot, a knight in shining armour with a somewhat strange personality, but nevertheless devoted to the singer. He gave her back a taste for life. Now she entered the phase of "Hollywood Star" where she thrust her femininity to the fore.
At the end of the year, she recorded "He Must Have Been 18". The track went to number one in nine countries, including Germany, where she sold 3½ million copies. On 15th January 1974, she took to the Olympia stage once more and finished off her performance with a new song "Gigi l'Amoroso". It lasted 7½ minutes, and included spoken and sung parts with several choruses. This track is still Dalida's best-selling hit worldwide, number one in twelve countries.
Then she left for a grand tour of Japan. At the end of 1974, she went to Quebec. Seevral months later, she went back again, before going to Germany. In February 1975, she received the French Academy Award for records.
A little while later, and to everyone's general surprise, Dalida threw herself whole-heartedly into an direction that no-one could have foreseen, the disco craze. Unrivalled pioneer in this area, her "J'attendrai version 75" was the first ever French disco single.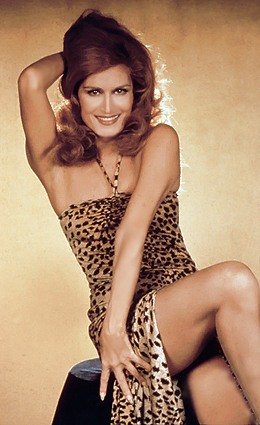 The 1970s also saw the birth of variety shows on television. She took advantage of this, since she was regularly invited to appear on TV in France and abroad.
In the Arab countries, Dalida was hugely appreciated. Everyone knew of her origins in Cairo, Egypt. That reinforced the link between her and the public there. Her return to Egypt in the 1970s and her travels to Lebanon gave her the idea to record in Arabic. In 1977 she took a traditional Egyptian folk song "Salma Ya Salama", and released it in France and the Middle East. The success was staggering. She eventually recorded it in five languages.
With "Génération 78" which was incidentally the first medley and the first French music video, she gained the opportunity of beating many other artistes at their own game. Now she was a show-woman of the first order, dressed in sumptuous sequinned gowns split to the thigh.
Americans love this kind of artiste, both glamorous and professional. They contacted her to come and give a show in New York. So on 29th November 1978, she took to the stage at Carnegie Hall. The crowd went wild. Dalida performed for the first time a song called "Lambeth Walk", with its1920s feel. The local press lapped it up. Dalida wallowed in her American success.
When she returned to France, she continued to record. During the summer of 1979, her new hit was called "Monday Tuesday". Dalida surfed the disco wave with ease, taking yet another fashion in her stride. In June, she returned to Egypt to perform. She was eagerly awaited there, not only by the public but also by the president Anwar Sadat. Then she went on a tour of the Emirates before returning to France.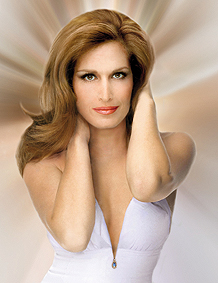 The 1980s started off with a bang. Dalida, in all her glory, performed at the Palais des Sports in Paris from 5th to 20th January 1980 with an American-style show, with twelve costume changes, mountains of feathers and tons of costume jewellery. The star was surrounded by eleven dancers and 30 musicians. This was a real Broadway choreographed show, which lasted more than two hours. All eighteen shows were sold out. She was the first female star to have success on such a scale. As soon as it was over she went on a grand tour which finished in the autumn.
In 1981, after a sad break-up with the Count of Saint-Germain, Dalida as always, threw herself into her work so as to cover up her chaotic private life, where once again she found herself alone. She repeated the Palais des Sports show at the Olympia in March 1981. For the first time, a diamond disc was created for her, and she was the first to receive one for worldwide record sales. Not only was it to celebrate sales of 85 million records, but also 55 gold discs for records in in seven languages and for her career as a whole. Then, ever the indefatigable professional, she went on tour again.
The next two years were notable for the fact that she was in a favourable position based on her friendship with the new French President, François Mitterrand. Many critics gossiped about their relationship rather than commenting on her professional career.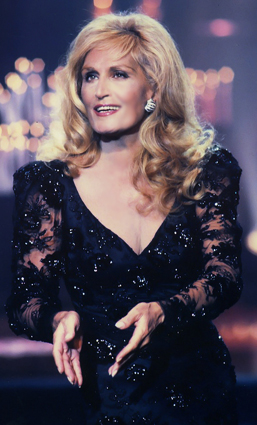 In 1983, she recorded a new album which included such tracks as "Mourir sur scène" and "Lucas". On 20th July that year, another blow was to befall the singer. Richard Chanfray committed suicide in Saint-Tropez in the south of France. Dalida was very affected by the death of her former companion, to the extent that it altered her professional enthusiasm. People noticed a physical change in her.
In 1984, she left again on tour, by public demand. Then she visited Saudi Arabia for some recitals. In 1985, she underwent two ophthalmic operations which brought back terrible memories.
During her 37 years of uninterrupted success, she found the time to make several films, but she had to wait until 1986 for a real meaty role. She didn't mind making herself look older for Youssef Chahine's film "The Sixth Day", in which she showed what a great actress she could be. Critics praised her performance.
But from their ivory towers, even goddesses have crises of faith and suffer from heartache. Dalida wasn't immune to this. The endgame of all exceptional tragic stories was already underway. All the years of work had tired her out, she was exhausted. She felt more and more alone and sensed that as her artistic life had grown, that of the woman inside had shrunk. She had neither husband nor children and the years were beginning to weigh down on her.
She sang: "I want to die on stage… ".
But, thinking that life had nothing else to give her, she decided to go to sleep forever on the night of 2nd May 1987, and left her final message:
"Forgive me, life has become unbearable for me".